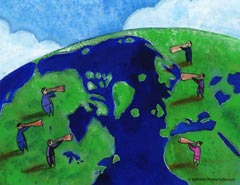 Our Mission
Main Objective of the World Development Foundation
is to act as a Precursor and Establish the Imperial Government of Planet Earth.

In order to achieve this objective the WDF will conduct a Campaign throughout the world to explain the benefits that will accrue to entire mankind by creating a World State.

The WDF aims to raise $30 Billion annually as contributions from various donors and distribute to Municipalities all over the world for Development Projects.

Implementing the Priorities of the World State as identified, to the extent of it's ability, will also be part of the Mission. To this end, the WDF will lobby the present
Governments for immediate Reform that will improve the Quality of Life on Earth.